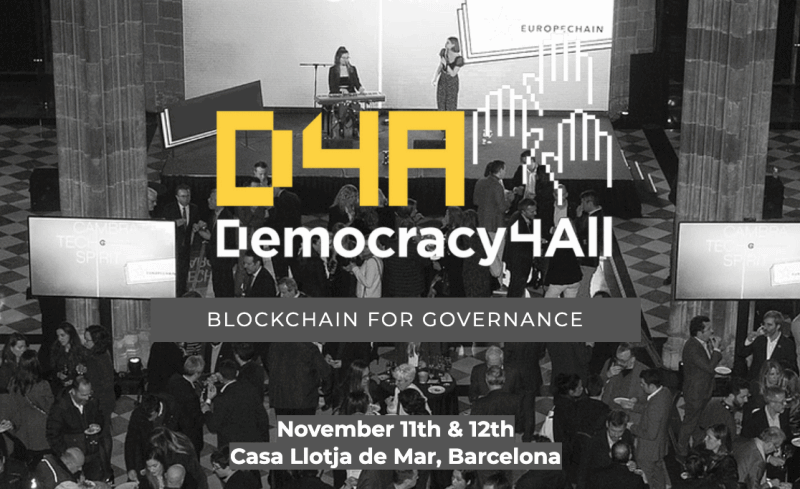 You can meet us on both 11th & 12th November at Casa Llotja de Mar
ABOUT DEMOCRACY4ALL
Democracy4All international conference is held annually since 2019.
The conference is concerned with the application of new technology and blockchain utilization as a tool for bringing democratic improvements in governance. The 2-day event will gather some of the best blockchain experts, policymakers and industry talents in one place, to discuss social, corporate and individual governance.
At the core of the event will lay the "12 Principles Of Good Democratic Governance", set by the Council of Europe. These principles define a common vision of democratic governance in Europe, and are used as metrics that can help authorities improve their governance and service delivery.
Over 45 speakers will get on the main stage, including Secretary General of the International Chamber of Commerce (ICC) John W.H. Denton, as well as the Vice-President & Minister of Digital Policies and Territory of Catalonia, and Mònica Roca – President of Barcelona's Chamber of Commerce.
Speakers with different professional background in business development, attorneys, company owners, directors and managing partners will also take part. There will be also VCs, investors and stakeholders as part of the planned networking activities.
When: 11 & 12 November 2021
Where: Casa Llotja de Mar, Barcelona, Spain
Tickets: https://www.d4a.io/tickets-d4a
ABOUT CRYPTOKEN MEDIA
Cryptoken Media is a full-service marketing agency specialized in the delivery of marketing and advertising services to crypto, blockchain, and fintech companies. We have over 70+ happy clients in our portfolio.
If you would like to get more information about our services or would like to arrange a call with us, please contact us via email: [email protected]